About Us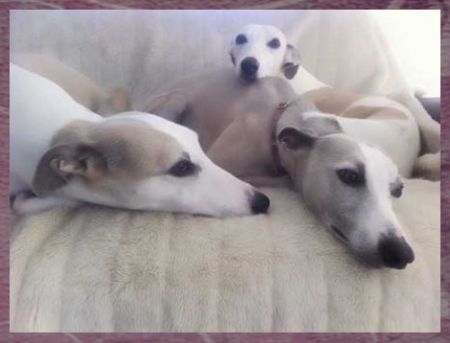 In the year 2000 we purchased our first dog PATRA from the RSPCA. She was a whippet x who had been in the shelter for many months looking for a loving home. She turned out to be the most beautiful dog for us and we shared lots of great times together. She taught us a lot about the loyalty a dog will give you; it is never to be under estimated!
We then introduced Roxy to our family in 2001; our first purebred whippet. Roxy took to Patra very well and a tight bond formed quickly, with lots of entertainment from both of them!
Sadly Patra passed away in December 2008. She will never be forgotten but I do believe she has paved the way for my whippet journey, with many new doors opening since her passing.
I then met Toni Comerford of Ridgesetter whippets as we were looking for a friend for poor Roxy, who was missing Patra immensely. We then found our 'Ming" Ridgesetter Ming Dynasty. A beautiful fawn & white particolor girl, very sweet in nature and a perfect match for Roxy. She blended in like she has always been here.
After lengthy discussions and research we decided to mate Ming when she came into season with Jack "Ch Khabaray Hugo Boss" who was an English import. This litter was born in October 2009. It was a stunning litter of 8 puppies.
Toni kept 2 puppies Ridgesetter Dante of Belrose "Dante" and Ridgesetter High Tea At Belrose "Rosie" and we kept Ridgesetter Belrose Star "Star"; the light of my life. One of the puppies was sent to Angela Barr in New Zealand and the rest went to superb loving pet homes.
They all started there show career with ease and with lots of fun and the rest is history! We are now totally smitten with the breed and enjoy our outings at the shows. Future litters are planned and we look forward to what the future holds.
Margot